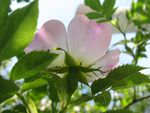 LIFE AS SOON AS IT BEGINS
On December 28th we are celebrating the Innocent Saints, a memory of the massacre of children decided by Herod out of envy and fear at the time of the birth of Jesus. On that day the Church also honours aborted babies and all the innocent children victims of war, of persecution and of the blind madness of men.
When our modern society upsets and damages all the ethical limits – cloning, eugenics, abortion, organ trafficking – the martyrdom of the Innocent Saints is present and future.
We'll just have to read a few figures: 'According to an estimate of the French Department of Health and Social Security, 206,000 women had an abortion in 2002 in metropolitan France. Among them 11,000 were less than 16. This figure represents a 1.7% increase in comparison with the figure of 198,700 abortions estimated for 2001' (French newspaper Libération dated November, 4th 2004 and quoted in the review of the press of the Guilé Foundation.
LIFE AS SOON AS IT BEGINS
We know the debate and how painful it is, whatever the viewpoint adopted. Counting weeks is a frightening calculation.
Embryo, foetus, eugenics…
How not to get dizzy with emotion and emotions?
What space for reflection? Where is the limit?
If we do not take the absolute stand of the initial moment, the question of the limit cannot be solved.
Human after the 10th week of pregnancy? the 12th ? Some countries go as far as the 20th. And lately, there was this Englishwoman who had a so-called late abortion in Spain during the 8th month. If I do not make a mistake, I remember that at school we learnt that in antiquity the Roman father had to acknowledge the new-born baby for him to be acknowledged and to be able to live.
That's the reason why the Church is compelled to maintain its stand.
A society is judged according to its concern for the poor.
And if you are poor, you appreciate.
'Who is poor ?' echoes the question of the Gospel 'Who is my neighbour ?'
They are on all borders, without any exceptions.
1. At the beginning of society, when the spermatozoon and the ovum meet.
2. On the fringes of society with the necessity to take care of our brothers affected by any kinds of poverty – mental illness, immigration, war enemies, jobless people, quick-tempered neighbours…
3. Until the end of the life in society, without prolonging life by technological means but without euthanasia.
What is interesting is that the Church takes its stand systematically when many of us (all ?) would like to choose.
Very often we do not use up the same amount of energy according to the topics we tackle – abortion, immigration, death penalty, handicap, torture, …
And according to the circumstances we ask either for the complexity of the situation to be taken into account or for the principles to be defended firmly.
How do you combine these two attitudes if we choose? It is always necessary to defend the principles and then to act, each, according to our conscience. This is not hypocrisy. We all act like that but when it suits us we easily criticize the others for it.
The question of praying for 'babies to be born' disturbs because it repeats the principle. And it immediately asks the question of the moral legitimacy of legal abortion. And in the minds of our fellow citizens there are two kinds of foetuses, the one wanted at all costs and the embarrassing one.
Under the pretext of helping the poor woman, we frequently come to use abortion for personal comfort. And despite the reservations of the first law in 1974, the misuse foretold unfortunately happened. 'The 2001 reform changed the spirit of the law. The reference to transgression disappeared. We went from 'forbidden unless' to 'authorized if'. The social interview is now only optional. (La Vie, issue 309).
And I've just found out that after going from abortion to termination of pregnancy, we went from termination of pregnancy to orthogenics, the translation of which is, I think, 'good birth'.
And despite the development of contraceptive methods, abortion is increasing every year in France, even for teenagers. The silence on this topic does not mean acceptance but taboo.
And we forgot the poorest, 'the poor child within the poor woman', when the woman is really isolated, forsaken by society and first of all by the faithful or casual man who claimed he loved her. She was not supported to carry a child even poorer than her, which led her to a new trauma.
The Church has always said : 'Mind all the borders'. What about the beginning? For the beginning too, from the beginning, right from the beginning. And it says at the same time : 'Do not forsake the women who are really is distress. You, rich people, help these poorer people to protect their even poorer ones.'
The question is far from being closed in our societies which do not crave for anything and which are full of anxieties.
Father Bruno
Let me have my say too.
A few months ago, Françoise asked us to pray for embryos.
After this request, we received very respectfully the reaction of some praying members who told us how moving or difficult it was for them to consider embryos as human beings. To answer these mails and after thinking about it and praying for quite a long time I would like to express myself humbly on this topic which is both difficult and painful: talking about embryos, foetuses, abortion… about life and the sacred…about the sacred of any life.
Any life is sacred because it is a gift from God. From the smallest particle of atom to the immensity of the cosmos, as well as each fragment of our being, all is God's work. As soon as a spermatozoon and an ovum meet, the being starts being built, life is on the move, life is, … and the sacred is, because God is present in any life. From the embryo to the elderly person to the foetus, the baby, the child, the young and the adult, each stage of this life, of our life, as soon as it begins and until it ends is God's work (Psalm 138:13; Jeremiah 1:5; Job 10:11).
Some scientists argue that the life of the very little one starts only at a certain stage. Before this stage, it is nothing but an arrangement of cells that are organizing and multiplying. It is also announced, but without any certainty, that this cluster of cells has no conscience, no sensation and does not suffer. Thus, starting from this demonstration, scientific research uses human embryos for its work, our societies determine the number of weeks of gestation until a woman may legally have an abortion. And God in all this! Every Sunday we profess that that the almighty Father is the creator of any thing 'before all the centuries', from this 'absolute' beginning asserted in the Book of Genesis (Gn 1:1) and resumed, for example, in the prologue to the Gospel of Saint John (Jn 1:1-4). Why do we refuse to believe that the first cell impregnated in the womb of a woman would not be the life wanted, wished by God? Why do we want to limit God's omnipotent love that is expressed in any life to our human conception that is narrow and restricted? Why are we disturbed by the affirmation of this life appearing as real and in God as soon as it begins?
Isn't there in this attitude the irrepressible need to express our freedom to choose, to decide according to our own certainties, our own truth and our own desire to remain 'masters' of our lives?
We state very clearly this freedom that the Lord has left us since he created the universe as soon as God's 'Laws' seem to imprison us in what we perceive as 'constraints'. Without aspiring to true freedom, we want to be freer and freer: free to think, to act, free to have children or not, free to choose our sexuality. This freedom leads some to push further and further away the taboos, all the taboos e.g. by claiming sexual freedom with children who are younger and younger… and I know your prayers for these abused children.
In France there are more than 200,00 abortions a year, and even doctors acknowledge that this figure is 'enormous and worrying' (Zenit dated July, 31st 2004). The freedom of 'the right to an abortion'…As we are praying for abused children, don't we have to wonder about these little ones, those who are living as soon as they are conceived, those who are living in the womb, who are the poorest, the most forgotten, the most abused because they are negated as soon as they are conceived. Don't we have to think of praying for these little ones too?
Don't we have to wonder as well about our own poverty as we trivialize the annihilation of this burgeoning life while condemning the woman who has an abortion at the same time? There are different reasons why a woman decides to have an abortion. We do not have to judge the women who have an abortion of their own free will or under any kinds of pressures. Whatever the reason – pure selfishness, material poverty, careerism, sexual precocity, abuse and violence – they all have their personal reasons to do that. There are then so many sufferings, such distress, such solitude, so many fears, such disorientation, such a lack of hope !…
We must help them, accompany them and pray for all these women who do not know how to receive this life, who are too poor or too hurt to hope for this little one they are carrying or thanks to him. And as they have an abortion, they are victims of a new inexorable wound that is going to break their lives. It is absolutely necessary to welcome the prayer that the Lord, in the breath of his Holy Spirit, puts in our hearts for all – the child-to-be and the mother-to-be.
Praying for these women – known or unknown – in whom the most sacred thing is being born and for these little ones whom everyone is anxious to try to forget.
Finally, isn't it our trust in God which is at stake? Having faith, like Mary who let God invade her by opening up totally to his will and by receiving this life, this divine gift, our Saviour.
Praying for these women to trust God totally despite doubts and anxieties. 'Daring to trust' in a world where trust appears too often now as a weakness. It is so inordinate a bet as God's crazy love for each of us. Daring to say 'yes' to this life that is thriving and believing in a future of Love and Peace. Daring to love so far !
Let's pray for life to be respected from the very beginning to the end,
Let's pray for these little ones who are forgotten and abused even before their births,
Let's pray for their mothers who are too poor or too hurt but also for all the mothers who like Mary received this sacred gift of God with confidence despite all the difficulties and all the anxieties and let's thank Our Father whose heart is overflowing with measureless Love for all of us.
Mona