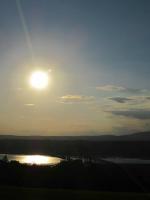 Children, the first victims of wars
A few weeks or a few months ago – it dœs not matter – Patrick, my husband, and I were watching the news on TV, a more or less sanitized review of the misfortunes – mainly misfortunes – and the joys of our time. The city of Homs in Syria, the images of the daily ordeal of civilians … and the instantaneity of horror : the corpses of children wrapped in red shrouds, their little faces bearing the signs of their violent death. Then, regardless of a look or a gesture, we both wept. In front of war, in front of these innocent children we wept. There was the conjugal prayer of our tears and nothing else but silence. Our human hearts, our fatherly and motherly hearts were in unison, filled with sadness and compassion.
And we were aware, on a human scale, of the suffering of the heart of our Trine God, of Mary and of the whole kingdom of heaven.
Thus, I had to write this new newsletter for these children, for Our God, for the tears of my husband, for yours certainly. May our prayer for abused children and abusing adults be turned towards the children from Syria or elsewhere, today and yesterday.
Thank you, from the bottom of my heart thank you.
Mona
The brutality of figures
A UN report released in 2010 (see http://www.droitsenfant.com) proposed a terrible estimation for the last decade (2000/2010)
- child soldiers : 250,000 among whom more than 30% were in Africa
- children victims of antipersonnel mines : between 8,000 and 10,000 a year
- refugee children or displaced children in the world : 23 million
- children killed : 2 million
- children seriously injured or mutilated for life : 6 million
- homeless children : 12 million
- Orphans or children separated from their families : more than one million
- children psychologically traumatized : 10 million
Let's humbly join our prayers for these children and for peace.
Eternal God, Creator of the universe, there is no God but You.
Great and wonderful are Your works, wondrous are your ways.
Thank You for the many splendoured variety of Your creation.
Thank You for the many ways we affirm Your presence and purpose,
and the freedom to do so.
Forgive our violation of Your creation.
Forgive our violence toward each other.
We stand in awe and gratitude for Your persistent love
for each and all of Your children:
Christian, Jew, Muslim, as well as those with other faiths.
Grant to all and our leaders attributes of the strong;
mutual respect in words and deed,
restraint in the exercise of power,
and the will for peace with justice, for all.
Eternal God, Creator of the universe, there is no God but You.
Amen.
This prayer authored by Christian, Jewish and Muslim clergy was used in many places in inter-religious worships around the time of the Gulf War in 1991.
Save us from the great evils which rend humanity
in these first years of the third millennium.
Save us from the wars and armed conflicts
which lay waste whole areas of the world,
from the scourge of terrorism
and from the many forms of violence
which assail the weak and the vulnerable.
Save us from discouragement
as we face the paths to peace,
difficult paths indeed, yet possible and therefore necessary;
paths which are always and everywhere urgent,
especially in the Land where You were born,
the Prince of Peace.
Blessed John Paul II, Christmas Day 2003
O God
You love justice and establish peace on earth.
We bring before you the disunity of today's world:
The absurd violence, and the many wars, which
are breaking the courage of the people of the world:
Human greed and injustice, which
breed hatred and strife.
Send Your Spirit and renew the face of the earth:
Teach us to be compassionate towards the whole human family:
Strengthen the will of all those
who fight for justice and for peace;
and give us that peace which the world cannot give.
Amen
From Current Dialogue 24/93 p. 36
Lord Jesus,
Make us intruments of thy peace,
Where there is hatred, let us sow love,
Where there is injury, pardon;
Where there is dissension, let us build peace.
O Divine Master, You taught us that those who work
For peace are called sons of God.
Let us establish justice and truth steadfastly as the
foundations of firm and lasting peace.
Lord, You give us peace as a gift
And as a task that we must fulfil with Your help.
Grant us the grace to welcome Your Peace,
Help us to have attitudes of peace,
May our words be words of peace,
May we fulfil works of peace,
And may we build the peace
Needed by the world and by us.
Prayer found in a church in Morbihan