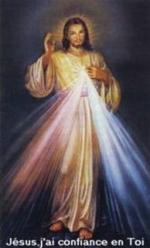 On Divine Mercy Sunday we had the pleasure of being invited by Father Pascal Monnier in his parish of Chambly.
May he be thanked for making us feel so welcome. On that occasion, I was particularly moved by his editorial in the parish newsletter. As he gave his consent, I am retranscribing it textually.
UNFORGIVABLE?

This word was pronounced a few weeks ago by the French President to describe Mr Cahuzac's offence. Unforgivable…There is no need to go back over the substance of the case that is discussed everywhere. However, it seems important to me to focus on Mr Hollande's word : unforgivable.
On the Sunday after Easter, the Church celebrates precisely the Divine Mercy. It is the Blessed Pope John Paul II who wanted the Church to contemplate God's endless Mercy, His inexhaustible forgiving love, at the end of Easter Octave.
Of course, being shocked and even scandalized by a Minister's offence is fully justified. The reaction is sharp and the disappointment bitter. That's quite normal. However, can we accuse thus irrevocably? Unforgivable!
The remark of an American cardinal seems to me particularly relevant: "The world allows everything, but forgives nothing ! As for the Church, everything is not allowed, but everything is forgiven!"
Beyond the controversy over the honesty of a man, there is another debate. In this world, there is no space for forgiving. It was already with a similar trick that Jesus's opponents wanted to have him trapped. "In the Law Moses commanded us to stone such women. Now what do you say?" (John 8, 5) There is a law and it must be respected. She sinned, she must die!
We know Jesus's answer. It flows from His merciful heart. God's justice, thank goodness, is not reduced to cold and straight scales. Man is taller than man. Man will never be reduced to his acts even if they are particularly sordid. Whatever he does, he is still the object of God's unchanging love.
Are you shocked ? That's good ! One day you will be perhaps the first one to be delighted because He, at least, does not condemn you …
Have a nice Divine Mercy Sunday !
Father Pascal Monnier
Father Pascal's text echoes Pope Francis's words during the public audience on Wednesday, June 12th
"God does not belong in a special way to any one people; for it is He who calls every man to be part of his people, without distinction, even anyone who feels far away from God and the Church, anyone who is timid or indifferent. But what can be said about this people? It is not through physical birth, but through a new birth, a spiritual birth that we are introduced into this people. This birth is a gift from God and is given by faith and Baptism. This people is governed by the law of love, the acknowledgment of God as the one Lord of life and, at the same time, the acceptance of the other as my true brother, overcoming division […].
This people's mission consists in bringing the hope and salvation of God to the world like a light. The lives of Christians must really be a sign of the love of God who calls everyone to friendship with Him. For if we bring the light of the Gospel especially through our lives, God can change the reality of the world often marked by evil. At last, the destination of this people is the Kingdom of God, which God himself inaugurated on this earth, full communion with the Lord to live in the joy of his love beyond measure […].
Looking in newspapers we understand that evil does exist […] There are so many wars between Christians: how is it possible within the People of God ? How many wars of envy, of jealousy, are waged in neighbourhoods, in the workplace! Even within the family itself, there are so many internal wars!" Pope Francis then suggested "to ask the Lord to make us correctly understand this law of love. How beautiful it is to love one another as true brothers and sisters." And he said : "We may all have likes and dislikes; many of us are perhaps a little angry with someone; then let us pray for those with whom we are angry : it is a beautiful step towards that law of love. […]
We see the presence of evil but God is stronger because He is Lord, the only Lord. Reality, at times, is dark and marked by evil, but it can change because God is stronger than evil. And full communion with the Lord is possible, a full joy with His Love is possible. To be the Church and the People of God, means to be the leaven of God in this humanity of ours. May faith give us courage, hope and new vigour for the journey. May the Church be a place, where all feel welcomed, loved, forgiven and encouraged. The Church must be with doors wide open so that all may enter. And we must go out through these doors and proclaim the Gospel."
After reading these two texts, let me add a few lines:
Our God is stronger than evil. He is a God of Love, a God of Mercy.
ACAAP is in a way a work of mercy.
Can I really love the other? Can I really forgive the other?
When I am facing the nastiness, the stupidity, the constructions, the justifications of those who are always reproaching me with something, "I do not love".
When I am facing parishioners who claim to work better than others, who despise others and who boast about doing a service as the Pharisee at the crossroads shows that he is fasting, without having a look for the person who does the service silently and discreetly, "I do not love".
When I am facing all these competitions, these "combinatione", all these people who throw their weight around and who humiliate their colleagues at work to persuade themselves that they are powerful, "I do not love".
But, moreover, am I really sure to forgive? I say "I'm forgiving you" but when the wound is too deep, when evil secretes more or less bitterness, my heart realizes that it did not forgive.
Lord, have mercy, "I do not love and I cannot forgive". This is my weakness, my confession, my sin. What is my poor love in front of God's Absolute Love? How pretentious I am when I ask you, my brothers and sisters in Christ, to pray for adults who are abusing children when my heart, this heart of stone that would like to be loving is so hard!
Why these lines, why this confession?
Because when I am facing my inability to love and to forgive, God enables me to look at his beloved Son's Heart of Love and of Mercy. This heart of Love, this burning heart.
I like imagining the Father's and the Son's hearts burning in unison. Like myriads of small sparks carried by the wind, they set on fire the heart of each person taking part in the prayer of ACAAP. And thus may our prayer for abusing adults be intercession and compassion like these two united hearts who love and forgive absolutely.
I like contemplating the Heart of Mary, Mediatrix of All Graces. She intercedes on behalf of the people taking part in the prayer of ACAAP, of the abused children and abusing adults. Thus, we can all follow this way of love and of mercy.
Confident of God's work in any life, I also like hoping that one day, on the Earth or in Heaven, the child for whom we are praying will finally be able to forgive and love the person who abused him and that the forgiven adult will finally be able to love despite his sin. Thus reconciled may they be transfigured by God's Love beyond any wound now purified, may they kiss each other and acknowledge they are brothers (or sisters) in Christ perfectly loved by God of All Perfection.
In union of prayer with you all
Mona

"If I had committed all possible crimes, I would still have the same confidence. I would feel that this multitude of offenses would be like a drop of water cast into a blazing fire." St Teresa of the Child Jesus.