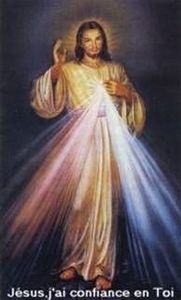 Therefore today we want to propose to you a new source of prayer that some, maybe many , already know and that's good : praying with a particular chaplet…
'The Chaplet of Divine Mercy'
Why such a proposal within ACAAP?
Because God's work is meshed with thousands and thousands of threads weaving the material of his Word or the fishing net of his children. It is obvious that ACAAP is only one of these threads that God himself is weaving at present. Our prayer belongs to a movement that God creates and grows on the topic of Mercy.
Therefore it seemed to us obvious to find resources in the prayer of the chaplet of Divine Mercy. The Lord summons us powerfully to mercy for children and even more for adults and he gives a way according to his heart. Such is this beautiful intuition of prayer that should light our way of 'small flames of Mercy.'
This chaplet is a gift of God through Sister Faustina and a gift of the Church through John Paul II. The latter instituted as a private devotion but a devotion highly encouraged, the novena from Good Friday to the Sunday of Divine Mercy during the octave of Easter… and heaven wanted this famous pope to die or rather to pass away on Saturday, April, 2nd 2005 at 21.53 during the feast of Divine Mercy.
Since May, 5th 2000 the feast of Divine Mercy has been ordained in the liturgy of the universal Church by our Pope John-Paul II.
God chose as the apostle of his mercy this Polish young lady, Sister Faustina (Helen Kowalska 1905-1938) whose inner life was very profound however simple and without any instruction.
On September 14th, 1935, Our Lord Jesus Christ taught Sr Faustina this chaplet. Jesus entrusted her with a mission addressed to the whole humanity.' My Mercy will envelop the souls who will say this chaplet during their lives and above all at the hour of death…The very depths of My tender mercy are stirred for the sake of those who say the Chaplet. Write down these words, My daughter. Speak to the world about My mercy; let all mankind recognize My unfathomable mercy. It is a sign for the end times; after it will come the day of justice.'
On February, 22nd 1931, in the evening, Sr Faustina saw the Christ of Mercy who asked her to paint this image with the incription 'Jesus, I trust in you'.
On January, 10th 1934, Jesus ordered Sr Faustina to celebrate this feast on the first Sunday after Easter.
On April, 18th, 1993, Sr Faustina was beatified by Pope John-Paul II in Rome and canonized on April, 30th 2000.
Here are Christ's words to Sr Faustina about the Feast of Mercy : 'On that day the very depths of My tender mercy are open. I pour out a whole ocean of graces upon those souls who approach the fount of My mercy. The soul that will go to Confession and receive Holy Communion shall obtain complete forgiveness of sins and punishment. I want to grant plenary indulgence for these souls. Let no soul fear to draw near to Me, even though its sins be as scarlet. My mercy is so great that no mind, be it of man or of angel, will be able to fathom it throughout all eternity. Everything that exists has come forth from the very depths of My most tender mercy […]. The Feast of Mercy emerged from My very depths of tenderness.'
Among the promises Jesus associated with this chaplet we can quote :
'My daughter, encourage souls to say this chaplet I gave you. It pleases Me to grant everything souls ask of Me by saying the chaplet.'
'Priests will recommend it to sinners as their last hope of salvation. Even if there were a sinner most hardened, if he were to recite this chaplet only once, he would receive the grace of My infinite Mercy.'
Therefore let's pray the chaplet of divine Mercy for abused children but also for abusing adults.
Christ to Sr Faustina : 'My daughter, as often as you hear the clock strike the third hour, immerse yourself completely in My mercy, adoring and glorifying (...). In this hour you can obtain everything for yourself and for others simply by asking; In this hour I will refuse nothing to the soul that makes a request of Me in virtue of My Passion. It is the hour of grace for the whole world.'
The Chaplet of Mercy is recited using ordinary rosary beads of five decades, preferably at 15.00.
Begin with the Our Father, the Hail Mary and the Apostle's Creed.
Then, on the large bead: 'Eternal Father, I offer you the Body and Blood, Soul and Divinity, of Your Dearly Beloved Son, Our Lord, Jesus Christ, in atonement for our sins and those of the whole world.'
On the ten small beads, say : 'For the sake of His sorrowful Passion, have mercy on us and on the whole world.'
At the end of each decade, say: 'Holy God, Holy Mighty One, Holy Immortal One, have Mercy on us and on the whole world.'
At the end of the chaplet, three times : 'Jesus, I trust in You'.
Conclude with : 'O Blood and Water, which gushed forth from the Heart of Jesus as a fountain of Mercy for us, have Mercy on us and on the whole world'.

Act of entrustment of the destiny of the world to the Divine Mercy
During his journey in Poland in August 2002, Pope John Paul II celebrated the dedication of the new sanctuary of the Divine Mercy in Cracow. During the homily he solemnly trusted the whole world to the Divine Mercy:
O God, merciful Father,
Who have revealed your love
in your Son, Jesus Christ,
and have poured it out upon us
in the Holy Spirit, the Comforter.
We entrust to You today the destiny of the world
and of every man and woman.
Bend down to us sinners,
heal our weaknesses,
conquer all evil,
and grant that all the inhabitants of the earth
may experience Your mercy.
May they always find the source of hope
In You, the Triune God.
Eternal Father,
for the sake of the sorrowful Passion,
and the Resurrection of Your Son,
have mercy on us
and on the whole world. Amen