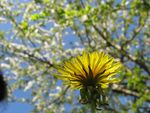 Lord, give me a sign !
Hello to all of you.
A mail we received gave me the idea of this little leading article.
'In my humble opinion, it is important all the same for a Christian to know whether his/her prayer was successful or whether it made things change.
Our prayer is, in faith, always efficient even if the result is not always in keeping with our human conceptions but with the will of our infinitely good Father who wants only the best for all of us.
Indeed, when our prayers and our wishes are successful, and if we know it, discreetly of course, then, we can sing God's praises and be happy and our Father loves that.
In communion of prayer, E.
Like E, many of you ask after the child recommended and even after the adult. How is he/she getting on? Is his/her life better? Did his/her torments stop? And did this adult finally become aware of his/her meanness? Did he/she apologize? So many questions. We believe in God, in the efficiency of praying but we need signs.
Without these signs we are expecting, we are in a state of uncertainty … and if our prayer was fruitless! And if this child went on suffering…'not this child whom I recommend daily in the gentleness of my prayer, whom I present on the altar at each Eucharist. No, Lord, have mercy on him/her.'
I confess to having asked for a sign too… eleven years ago as I kept on thinking about how to help these children I could meet in my professional life even more, I went to Paray-le-Monial. I spent three days praying in front of the Blessed Sacrament, adoring the Heart of Christ, asking whether I had to move forward with this small work of prayer. Not knowing, not daring to follow this presentiment that the Lord had put within my heart, not finding in my heart the absolute confidence in what God was asking me. I needed a sign… 'Lord, give me a sign, and I shall follow your road, I shall obey.' I fasted, prayed and wept for three days. As I got on the train back home, I left Paray, sad, worn out and torn between the insistent request made by God and my obstinate expectation of a sign.
Back in my parish, a meeting with Father Bruno, my spiritual adviser, made me gently aware of the fact that faith alone was sufficient and that the most important was to make God's will. Then, going down on one knee, I accepted. In faith, the Lord had progressively led me to answer his call. The people to whom I had presented this project, immediately said yes to form a small editorial team and Father Bruno agreed to be the spiritual adviser of ACIMP. At mass, on the following day, we had planned to make our first announcement and actually the first praying members joined us.
But may faith being nothing but weakness, after a late work session, although it was late, I decided to go to an oratory accessible so late into the night. After accepting in the morning, finding a team and a priest, planning the launching of ACIMP on the following day, I was sitting in front of the Blessed Tabernacle asking again for a sign … : ' Lord, I agreed to answer your request but if it is really your request, give me a sign, may someone enter this oratory to pray right now!' Then, in front of such a lack of belief, at last, I received a sign: someone entered the oratory at dead of night. The Lord had mercy on me and above all on my lack of faith.
A statement, however, can comfort us: a teacher who had asked to find a praying member for a young boy who was in pain, saw, a few days after the child had been recommended, that the life of this young boy had really improved – he was smiling again and he agreed to be helped.
Otherwise, nothing else … but does our prayer need signs, does it need to know whether the child is well or not? Our prayer is in communion with the Saints, it trusts in the Love of God and it knows that God can all. What we cannot see or know is always in the hands of God. God is Father and he knows more than we do what is well and good for each of his children. Doesn't the absolute gratuitousness of our prayer mean leaving the fruit to God alone? Doesn't it mean giving him thanks for his humility to ask us to pray?
Is it always necessary to measure our praise and what we know or isn't it better to let it open out at the thought of the dimension of God's work of Mercy?
But, if you are like me, if all the same you ask for a sign, then let's wonder what changed in ourselves, in our prayer. Would have we been able to pray for an abusing adult as we do today? Would have we been able to follow this path towards the conversion of the heart which, facing our own weakness, gives us to measure a little more the unfathomable Mercy of God for all of us?
Isn't the sign quite simply the way we travelled in our life, our prayer, our faith? Besides, some of us reported they had again the taste for daily prayer.
Today, we are more than 550 to be every day a little more small flames of mercy blazing in the darkness of unbelief. We are more than 550 small signs proving that God loves us first. You are for me more than 550 small signs of his luminous Mercy, as our common prayer rises in humble praise of our Thrice-Holy God. Sorry, Lord, for our lack of faith! Thank you, Lord, for such kindness! Thank you Father!
Mona

'And all things whatsoever ye shall ask in prayer, believing, ye shall receive.'
Matthew 21:22
'The other disciples therefore said unto him, "We have seen the Lord." But he said unto them, "Unless I shall see in His hands the print of the nails, […] I will not believe." And after eight days […]"
John 20:25
So today, at least I do not need signs. Why? Because I learnt to trust in the Lord, independently of any signs. The unbeliever needs a guarantee, but as I am a believer, I need neither guarantee nor sign; although I do not speak a language miraculously, I know I was cleansed from my sins. In the past, men would not have believed, if they had not received a sign; that is the reason why signs were given as a guarantee of the faith required of them. To prove that it was not to believers but to unbelievers that signs were given in order to make them believe, Paul said: 'signs are not for believers but for unbelievers' (1 Co 14:22) Do you understand that God does not dishonour us, that it is, on the contrary, out of esteem for us that he stopped revealing himself through signs. He wanted to show that our faith is independent of guarantees and signs; that is the reason why God did what he did. In the past, men used to ask for a sign, a guarantee mainly to believe in God about invisible things; but, independently of all this, I show a whole faith: that is the reason why there are no more signs today.
Saint John Chrysostom (354-407)
Excerpt of the first homily on Pentecost