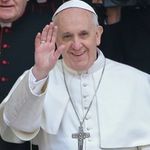 The Church and ACAAP
The Church and ACAAP, to a lesser extent, have recently known many events.
Our Lenten path was marked by two very important events:
First, on February, 28th, Pope Benedict XVI left, renouncing his ministry of « Bishop of Rome, Successor of Saint Peter ».
In July 2009 we had the huge gratitude to receive his apostolic blessing for ACIMP and its praying members.
He also had the courage to lead the Church itself to denounce the crimes of priests who had become « poor » because of acts of paedophilia. Let's remember
- his words in September 2010 in London, in Westminster Cathedral : 'Here, too, I think of the immense suffering caused by the abuse of children, especially within the church and by her ministers. Above all, I express my deep sorrow to the innocent victims of these unspeakable crimes, along with my hope that the power of Christ's grace, his sacrifice of reconciliation, will bring deep healing and peace to their lives.'
- At last the words he pronounced during his final General audience on February, 27th: 'At this time, I have within myself a great trust [in God], because I know – all of us know – that the Gospel's word of truth is the strength of the Church: it is her life. The Gospel purifies and renews: it bears fruit wherever the community of believers hears and welcomes the grace of God in truth and lives in charity. This is my faith, this is my joy'.
Our thanks and our prayer for you Benedict XVI, now Pope emeritus.
Then, on March, 13th Cardinal Jorge Mario Bergoglio, our new Pope, Francis was elected.
What humility, what wisdom in this pope who began his pontificate by a Paternoster and a "Hail, Mary" for his predecessor and who pronounced these words: 'I ask a favour of you: before the Bishop blesses his people, I ask you to pray to the Lord that he will bless me: the prayer of the people asking the blessing for their Bishop' and he bowed simply, humbly.
May the Holy Spirit guide him on the way of Saint Francis, the poverello of Assisi, all along his ministry at the head of the Catholic Church.
On February, 15th, on Saint Claude La Colombiere's day – patron saint of ACAAP and 13th anniversary of the creation of this work, Mgr Jacques Benoit-Gonnin, our bishop (Diocese of Beauvais) made us happy as he signed the decree acknowledging the statutes of ACIMP as a « Diocesan private association of the Faithful ».
We have exceeded the number of 1,500 praying members. Thank you very much to Sister Charlotte-Emmanuelle, a Clare in Senlis, who thanks to her numerous contacts, gave us the opportunity to welcome many new praying members, priests, monks and nuns in all congregations (among whom many Clares), laymen and laywomen in a lot of countries: the United States, Mexico, Canada, Bulgaria, Israel, Mauritius, Belgium, Switzerland, the United Kingdom, Gabon and Madagascar.
Praise be to our Three-times-holy god and like Mary we can sing :
« The Almighty worked marvels for me ;
Holy is his Name ! »
About the first names entrusted to you:
Several times people asked us about the veracity of the first names entrusted to them.
A few years ago, an infant specialist had even advised us to entrust the first names of the calendar. Thus we would have had a large choice of first names and "God who knows all will be able to sort out."
Recently a praying member who had received an unpronounceable first name drew our attention: we could answer him that the abused child for whom he prayed had surprisingly the first name of an Irish saint-monk of the XIIth century.
Since a few months many of you have received foreign-sounding first names of children and/or adults. Right from the beginning ACAAP has wanted to pray for children and adults from any denominations from any countries. The Church is universal. However, when we receive a very specific first name, we entrust it very far from the place where he was given to us. Thus, when we visited praying members in La Réunion, we received many "Réunion-sounding" first names. Consequently none of them was entrusted on this beautiful island. We must protect these suffering children thanks to our complete discretion. The French law demands it and the law of our hearts wishes it as well. So yes, all the first names of children and adults that are entrusted are indeed true first names. How could our prayer be fruitful if it was based on a lie? Our prayer is a support for them: it helps children to heal and to live and adults to acknowledge their crimes and to choose life too. Our prayer hopes to be a balm to their hearts of children and adults for the Mercy of the Divine Heart to flow and heal any wound, any bruise, any stain. Our prayer is rooted into the real even if it is poor and is a supplication so that one day here below or in heaven, abused children and abusing adults might acknowledge they are children born of the same Father.
Finally during this Year of the Faith we propose to you the text by A.
May she be thanked for this beautiful testimony!
WHY AND HOW TO PRAY IN ACAAP? See Jn 17,3 and Ga 2, 19-20
Why ?
My baptism made me Jesus Christ's sister, so I am destined to love Jesus and to love the others as Jesus loved us and with him to comfort his people facing the miseries of the world.
I cannot change the hearts of others but I can change mine and find peace in the mercy of God through Jesus Christ.
I can find the peace given by God while watching and praying as Jesus taught us and above all as Jesus did at the Mount of Olives at the highest of his persecution on the cross. "Watch and pray" he says to his disciples who wants to follow him till the end of their mission in mercy. Not easy! I can find this encouragement supported in ACAAP.
Indeed, who can pray better for the happiness of a child who is suffering, a child that we all bear within ourselves and that we are destined to become as sons and daughters of Jesus Christ's God.
- Watch in order to be always ready to bear witness to the Hope we are filled with in happiness or in misfortune. The Devil does not have the last word any longer.
- Pray for those who do us good: give thanks !
- Pray for those who hurt us sometimes without them knowing it and practice mercy that is to say to put love on the wretchedness of man, of any man.
Do we always know when we hurt ourselves, the other, God ? Watch and pray in ACAAP is for me a way of mercy which changes my heart towards myself, towards the others with the help of Jesus who is himself mercy for us. "The Son of God gave himself to save us and give us eternal Life". (Ga 2, 20).
How ?
In a few words every day, with the rosary or the breviary of the universal Church, by repeating the prayer proposed by ACAAP with intensity and sincerity in the silence at home, waiting for grace. The Lord listens to our prayer. Like Mary, "let's keep all this within our hearts" with respect and patience and the grace of Peace invades our hearts.
This grace of Peace makes me see all the dreadful actions of human violence but also the kind actions springing from the hearts of our brothers and sisters in Jesus Christ and also of all those who say they do not believe in Him. I think that any man is in the grip of this violence destroying humanity including myself, and at the same time any man longs for divine kindness in the tragic times of his life.
When we pray with ACAAP, we are always on the way of conversion in Jesus's Spirit. And waiting for God's grace we become every day a little more a true "Small flame of mercy".
Conclusion : Lord, I thank you for all the kindness you enable me to enjoy thanks to the believers (and sometimes the non-believers) whom I met and who helped me to overcome all the obstacles due to my limits and to my sin, all along my life. Yes, you were there, Lord, and I did not know it. Lord, may I proclaim the marvels of your love at any time of my live, thanks to ACAAP too. Amen.
April 2013